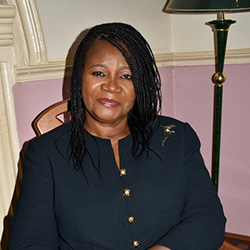 Roseline Obiageli Nwosu is a practicing lawyer called to the Nigerian Bar in July 1981 after obtaining her LLB Hons degree from Queen Mary College, University of London in 1980. She later obtained a Diploma in International Arbitration from the Chartered Institute of Arbitrators (CIArb) (UK). She is a Fellow of the same Institute, a Fellow of Institute of Chartered Mediators and Conciliators (ICMC) and an Accredited Mediator of Centre for Effective Dispute Resolution (CEDR)(UK). She is also a Notary Public of the Supreme Court of Nigeria. She has vast experience in Public Service having worked in both Federal Ministry of Justice and Corporate Affairs Commission Nigeria where she rose to the position of Deputy Director, Incorporated Trustees before going into private practice as the Principal Counsel in Rose O. Ojiako-Nwosu and Company.
She is an experienced Alternative Dispute Resolution Practitioner who has presided over many Arbitration and Mediation disputes with special interest in Commercial and Construction Arbitration and Commercial and Family Mediations. She is also a Fellow of Institute of Construction Industry Arbitrators and Member, Guild of Adjudicators in Nigeria (GAIN), Member, Family Peace Facilitators Network (FPFN).
She has attended several trainings and Conferences both Nationally and Internationally on Alternative Dispute Resolution and has recently acquired Certifications from Institute of Chartered Mediators and Conciliators (ICMC) and ODR (Africa) as an Online Dispute Resolution Practitioner and Certification in Family Mediation, Counselling and Trauma Healing from Mediation Training Institute (MTI) under the auspices of Family Peace Facilitators Network (FPFN).
She speaks at Alternative Dispute Resolution (ADR) Workshops and Conferences and from time to time, and has had the opportunity to Chair Sessions in such events.
In the past, she has held positions as the Chairperson of International Federation of Women Lawyers (FIDA) Abuja, Regional Vice Chair for North and West Africa (FIDA International), FIDA International Historian, Vice Chair ICMC Abuja, and currently 2nd Vice Chair CIArb (UK) (Nigeria Branch) Abuja Chapter.