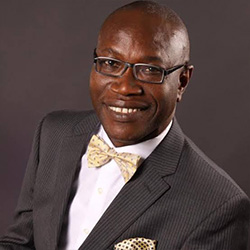 Prof. Adesoji Adesugba DBA, MBA, MSc, LLB, BL. BSc, FCIArb (UK).
An accomplished specialist in Investment Promotion and Economic Development, Adesoji Adesugba is known for his proficiency in organizational development and institutional reforms. He has combined the best in private sector entrepreneurial acumen with an expert ability to navigate public sector practice. Adesugba lectures part-time as a Professor of Business Administration at the Roegate College in Dublin, Ireland. He was at one time a pioneer Professor of Investment Promotion at the Baden International Business School, Baden, Switzerland and until recently, he was also a visiting Professor at the American University of West Africa, Banjul Gambia.
Adesugba is the founder and the Provost at the Business Entrepreneurship Skills and Technology (BEST) Centre, and a 2nd Deputy President at the Abuja Chamber of Commerce and Industry (ACCI). Prof. Adesugba is also the founder and President of the first Gemological Institute in West Africa, the Gemological Institute of Nigeria (GIN). He also founded and is the National Coordinator of the Gemstones Miners and Marketers Association of Nigeria (GMMAN). Prof. Adesugba is a Vice President at the Nigerian Chamber of Mines. He was recently appointed as the Legal Adviser of the National Association of Chambers of Commerce and Industry, Mines, and Agriculture (NACCIMA) and he also chairs the Association's Education Committee. Recently, he co-initiated the founding of the Forum Francophone des Affaires in Nigeria.
Adesugba is a passionate advocate for improved skills through dual vocational training as a strategy for dealing with the increase in unemployment and for poverty reduction in Africa. As a result of his conviction, he has made measurable impact over the past four years in skills development through his work in mentoring young under privileged school leavers in developing their entrepreneurship skills. A direct result of his efforts is the creation of the Entrepreneurship Development Program for young school leavers at the BEST Centre and the training of over 550 youths in the year 2019.