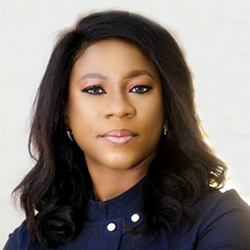 A Legal Practitioner and Arbitrator, Diane is a Partner with the law offices of Marcus-Okoko & Co., a firm based in Abuja, with expertise in Arbitration, Corporate Commercial Law, Capital Markets, Legal and Regulatory Compliance and Project Management.
She is a Fellow and an approved Faculty member of the Chartered Institute of Arbitrators (UK) Nigeria Branch, as well as a Fellow of the Society of Construction Arbitration, a Corporate Governance Practitioner and facilitator, with vast expertise in Corporate and Company law practice, having garnered extensive knowledge, expertise and experience in these areas over the years through her participation in several transactions across these fields. She is a registered Capital Market Solicitor, a member of the National Prosecution Coordination Committee (NPCC), a member of the Governing Council of Janada International Centre for Arbitration and Mediation (JICAM), a member of the Nigeria Incentive-based Risk Sharing System for Agricultural Lending (NIRSAL) Experts Committee, a Zonal Coordinating Consultant to NIRSAL, a member of the Executive Committee of the Abuja Chapter of the Chartered Institute of Arbitrators (UK), Nigeria Branch and a member of the Lagos Court of Arbitration Panel of Neutrals. She is also on the Panel of Neutrals of the Nigerian Communications Commission (NCC), the Nigerian Chambers of Commerce Dispute Resolution Centre (NCC-DRC), the Cairo Regional Centre for International Commercial Arbitration (CRCICA) as well as the Abuja Multi-Door Courthouse (AMDC).
She has significant experience in Arbitration, Mergers and Acquisitions and Managing Board Performances and Expectations. She has worked on several transactions in a number of countries across West and East Africa as well as Europe and America. She consults on corporate governance for a number of Microfinance and multinational Institutions. She serves as Company Secretary/Legal Adviser to several Boards and Governing Councils, Multinational Companies, Government Agencies and State Governments such as the Sokoto State Investment Company and International Entrepreneurship Network (GEN), Nigeria.