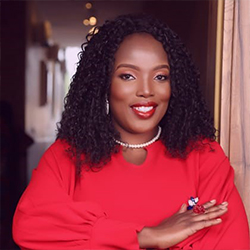 Mojirayo Ogunlana-Nkanga is a Legal Practitioner and the Principal Counsel of M.O.N. Legal, a law firm based in Abuja, Nigeria, and a co-founder of the Centre for Impact Advocacy (CiA), a non-governmental and public interest driven organization established to promote good governance, defend human rights, and uphold democratic principles in Nigeria. She specializes in Human Rights and Press Freedom (Digital and offline Media Rights) as well as Gender rights. She is a Member of the Chartered Institute of Arbitrators (UK) and its Nigerian branch, a Fellow of the Institute of Chartered Mediators and Conciliators, Member of the Panel of Neutrals of the Nigerian Chambers of Commerce Dispute Resolution Centre (NCC-DRC), a member of the Panel of Neutrals of the Abuja Multi-door Courthouse (Muhammadu Uwais Dispute Resolution Centre Abuja), a certified ADR Registrar/ Secretary of Institute of ADR Registrars and is presently the Public Relations Officer of FIDA (Nigeria) Abuja Branch and the Institute of Chartered Mediators and Conciliators (Nigeria) Abuja branch. She is also a member of the Internet Society of Nigeria and Nigerian Internet Governance Forum.
Her passion for mediation led her to attending self-developing trainings at the Institute of Chartered Mediators and Conciliators. This afforded her the opportunity to be empowered and to immediately put the training to work by volunteering with the Mediation Committee of the International Federation of Women Lawyers, where she carried out mediation on marital conflicts that leads to peaceful resolution of disputes.
Mojirayo is passionate about women and children and frequently sensitizes women and Children on their rights under Nigerian laws. Her passion has led her to volunteering for causes targeted at upholding women and gender rights in Nigeria. She also stands out as one of the leading women voices for Press Freedom and protection of Digital Rights in Nigeria.