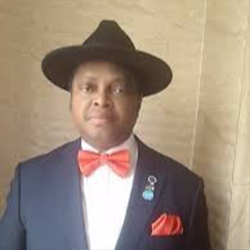 Segun Ogunyannwo is an acclaimed mediator, trainer of mediators and an Ambassador for Peace. With an Engineering background. He brings to the mediation process, the creativity and ingenuity of an Engineer – calling the process, "Human Engineering". He also holds a Masters' degree in "Peace and Conflict Studies"
He has consulted for and trained mediators for Shell Petroleum Dev Company (SPDC), Mid-Western Oil and Gas (MWOG), United Nations Office on Drugs and Crime (UNODC), United Nations Dev Programme (UNDP), German Agency for Int'l Dev (GIZ), DFID: Justice for All (J4A), Mercy Corps (MC), Int'l Republican Institute (IRI), Kofi Annan Int'l Peace-making Training Centre (KAIPTC), Heartland Alliance Int'l (HAI), Int'l Rescue Committee (IRC), Norwegian Refugee Council (NRC), the Nigerian Security and Civil Defence Corps (NSCDC), Partnership Initiatives In the Niger Delta (PIND), Etc
He Consulted for the UNDP Integrated Peacebuilding Program for Nigeria's Farmers/Herders Crisis in Benue, Nasarawa, and Taraba States. He won the int'l 'Call for Consultants' to conduct the Neutral Mediation, Dialogue Facilitation and Training of Trainers (TOT) certification courses for staff of Danish Demining Group (DDG) an arm of the Danish Refugee Council (DRC).
Mr. Segun wrote the proposal for the establishment of the Lagos Multi-Door Courthouse (LMDC) and served as the first in-house mediator. He also wrote the proposals for the establishment of the Kano, Uyo and Ogun Multi-Door Courthouses (MDCs) and served as consultant on the projects. He is presently consulting for GIZ on the Plateau and Niger States MDCs
He is the first Nigerian to receive the prestigious Int'l Mediation Accreditation from the Centre for Effective Dispute Resolution (CEDR), London. He is also an MTI-US Certified Professional in Workplace Mediation
He is the President of Mediation Training Institute (MTI-Nigeria). He is the immediate past Registrar/CEO and Life-Member, Governing Council of ICMC. He is a Fellow of the Society for Peace Studies and Practice (SPSP). He is on the Boards and Panels of Neutrals of several organizations.
He consults for the UNDP sponsored project for Civilian Joint Task Force and Vigilante Groups from the North East. He was a consultant on the Presidential Amnesty Program for ex-militants of the Niger Delta.
He is the author of The Effective Mediator, a resource material for practicing and aspiring mediators. He loves peace and people, demonstrating deep knowledge and understanding of human nature. He is adjudged one of the best mediators and trainers of mediators in Africa.