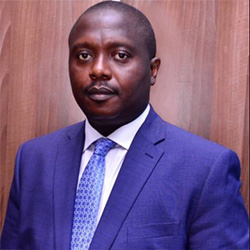 Emeka Obegolu, SAN is a Legal Practitioner by training and an Arbitrator and Mediator by passion. He is a senior and founding Partner of Greenfield Chambers with a Master's degree in Law and a Doctor of Philosophy in Arbitration.
He specializes in Alternative Dispute Resolution (ADR) (Arbitration and Mediation), Criminal law and practice, Commercial law practice, Petroleum Law, pre and post-election matters, and constitutional law and practice, to mention but a few.
He is an expert in ADR, holding Fellowship of a number of professional bodies including the Institute of Chartered Mediators and Conciliators (ICMC) and the Chartered Institute of Arbitrators (UK). He is an alumnus of the Harvard Law School Program on Negotiation and a certified ADR Trainer with a specialization in Negotiation, Mediation, Conciliation, Arbitration and Arbitral Secretarial Services.
He is a highly-experienced Arbitrator and Mediator. He has served as Sole Arbitrator in commercial arbitrations, served as Counsel in engineering-dispute arbitration and supply contract arbitration. He has mediated several complex disputes ranging from labour disputes and commercial disputes to family and communal conflicts.
He is a past President of the Institute of Chartered Mediators and Conciliators, the President of the Pan African Lawyers Union (PALU), the Chairman of the Governing Council of the National Chambers of Commerce Dispute Resolution Centre (NCCDRC), the Chairman of the Governing Council of the Institute of ADR Registrars, and the 1st Deputy President of the Abuja Chamber of Commerce and Industry