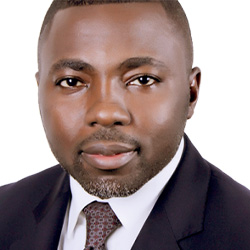 Dr. Agada Elachi is a practicing lawyer called to the Nigerian bar in 1999. He holds a doctorate degree in Public Policy and Administration specializing in Terrorism, Mediation and Peace (Walden, U.S.A), and a Master's degree in Law.
Agada is an ADR expert with a bias for mediation and arbitration. He holds the fellowship of several professional bodies including the Institute of Chartered Mediators and Conciliators (ICMC, Nigeria) and the Chartered Institute of Arbitrators (UK). He also holds a diploma in international commercial arbitration. He is a certified trainer in Mediation, Arbitration, and conflict resolution processes generally.
He is on the panel of Panel of Neutrals of several organizations. Some of these are: Global Mediation (UK), Kigali International Arbitration Centre, Nigerian Chamber of Commerce Dispute Resolution Centre (NCC-DRC), Nigerian Communications Commission, Federal High Court Alternative Dispute Resolution Centre, and several multi-door courthouses. He is actively involved in researching, writing, and speaking locally and internationally.