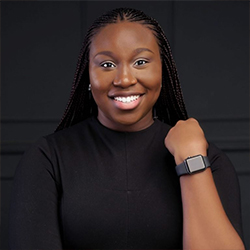 Chimdimma Onyedebelu earned her Bachelor's degree in Law with First Class Honours from Afe Babalola University, Nigeria in 2016 and in 2017, she was called to the Nigerian Bar. She has a Master's degree in Law (LL.M. – Dispute Resolution) from the University of Missouri-Columbia, USA.
She is a certified Arbitrator and Mediator, and consults for various stakeholders in dispute management. Chimdimma is an accredited Neutral with the Federal High Court ADR Centre, Plateau State Multi-Door Courthouse and the Nigerian Chamber of Commerce Dispute Resolution Centre.
She has served as a Speaker in ADR conferences and workshops of various organizations, some of which are the National Centre for Technology and Dispute Resolution, USA, Nigerian Chamber of Commerce Dispute Resolution Centre (NCC-DRC), Chukwuemeka Odumegwu University, The ADR Societies of the University of Ilorin and Osun State University, and The Young Diplomats Chamber, University of Ilorin.
She is a member of the Training Faculties of the Institute of Chartered Mediators and Conciliators (ICMC) and the Institute of ADR Registrars. She has facilitated Mediation Skills Certification trainings leading to membership of ICMC, and certification trainings on ADR Registry Services across Nigeria. As a result, she has trained and assessed hundreds of Mediators.