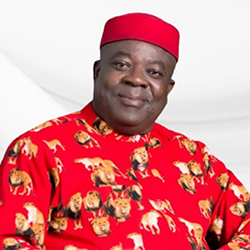 Uchenna Cyril Anioke, Ph.D is the National President of Nigerian Publishers Association (NPA), and Member, Executive Committee, of the International Publishers Association (IPA), based in Geneva, Switzerland.
He is also the Group Managing Director of Acena Publishers Nigeria Limited and Pens and Voices Nigeria Limited, with corporate headquarters in Enugu, Southeast, Nigeria.
Acena Publishers deals in book publishing while Pens and Voices Nigeria Limited, is an integrated media organisation with interests in broadcasting, print and online journalism.
Anioke holds a B.A degree in History, M.A in Mass Communication from the University of Nigeria, Nsukka and a doctorate degree in Mass Communication, from Enugu State University of Science and Technology, ESUT.
Between 1993 and 1999, Anioke introduced and taught Publishing Studies to Mass Communication students of Enugu State University of Science and Technology, Enugu. He also introduced and taught Skills of Conflict Resolution to Political Science Students of the same University. Anioke is currently a visiting / adjunct lecturer in the Institute of Peace, Conflict and Development Studies of Enugu State University of Science and Technology, (ESUT).
A prolific writer and author, Anioke has to his credit four published books.
A motivational speaker, mediator , conciliator and negotiator, as well as a nationally and internationally acclaimed Alternative Dispute Resolution ( ADR) expert, Anioke is a Fellow, Institute of Chartered Mediators and Conciliators, (ICMC) Ngeria. He is also a member of its Governing Council, as well as the vice president, communications and strategy. As a member of its training faculty, Anioke has facilitated many trainings for High Court Judges, Magistrates, professors, political, traditional and religious leaders in Nigeria. As a certified and accredited expert in managing workplace disputes, grievances and conflicts, Anioke has helped many organisations in resolving some uncommon challenges. He is a neutral with the Enugu State Multi Door Court House, Dispute Resolution Centre of the Abuja Chamber of Commerce and Industry, and has been admitted as a neutral of the World Intellectual Property Organisation (WIPO), Arbitration and Mediation Centre, Geneva, Switzerland.
A media guru par excellence, Anioke is a renowned broadcast journalist; on air personality and media influencer; he is the Host of the weekly Freedom Square Live on Solid 100.9 FM, Enugu, which ranks as one of the most popular radio talk shows, South east, Nigeria.
Importantly, Anioke hosts another popular on air (live) mediation programme, Dispute Resolution Arena on Solid 100.9 FM, Enugu, where disputants call in to receive coping mechanisms in resolving challenging issues. Anioke plays host to many other programmes on Solid 100.9 FM. They include, Housing Today, The Eagle, and S. Mobile Connect. Anioke actively contributes to some other programmes, such as Soul Sistaz and Adams Bar. Suffice it to say that Anioke is popularly known as Soul Brother within the media ecosystem.
Anioke is also the managing editor of Freedom Squaretv, a live streaming, news oriented social tv platform.
Anioke has, between 1999 – 2012, served Enugu State variously and creditably as Managing Director, Enugu State Housing Development Corporation, managing director, Enugu State Star Printing and Publishing Corporation, Commissioner for youths and sports; Commissioner for Human Capital Development and Poverty Reduction, Commissioner for Special Duties; Special Adviser to the Governor of Enugu State, and elected executive chairman/ Mayor of Awgu Local Government Area. As Chairman of Awgu Local Government Area, Anioke was awarded several awards by the House of Representatives Committee on Local Govt as the Best Chairman , Enugu State, Best chairman, Southeast Nigeria and the Third Best Chairman in Nigeria.
His hobbies include reading, writing and travelling.
Anioke is a high chief in his home State, where he holds a chieftaincy title of Omeluora Enugu.
He is happily married with children.