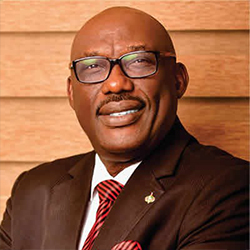 Chief Joe-Kyari Gadzama, OFR, MFR, SAN, FNIALS, DipICArb, FCIARB. (UK) Chartered Arbitrator, CEDR Accredited Mediator, Life Bencher/Barrister at Lincolns Inn.
He is a seasoned Litigation and commercial Lawyer, and an internationally respected Arbitrator.  He is the founder/ principal partner of J-K Gadzama LLP. Acclaimed locally and internationally, he is listed in Who is Who Nigeria 2016 and also as a Band one litigation lawyer in Chambers and Partner. He is a Scholar, an Author and a Publisher.
He attended the University of Maiduguri (LL.B., 1985); Nigerian Law School (B.L., 1986); Diploma in International Commercial Arbitration, Keble College, Oxford University, UK. 2006; Institute of Public Private Partnership (IP3), Washington DC, USA, 2009; London School of Economics and Political Science (LSE), Short Course Regulation 2010. He was admitted to the Nigeria Bar in 1986 and Lincoln's Inn (UK) in 2008. He became a Senior Advocate of Nigeria (SAN) in 1998 (the first among the 1986 set of the Nigerian Law School).
He is the immediate past Chairman, Chartered Institute of Arbitrators (UK) Abuja Chapter; He is also a Chartered Arbitrator of the same institute; Member, London Court of International Arbitration (LCIA); Member, Centre for Effective Dispute Resolution, England (CEDR); Member, Mauritius International Arbitration Centre (MIAC); Chairman, Board of Trustees of the Janada International Center for Arbitration and Mediation (JICAM).
His expert opinion, on the nature of damages recoverable under Nigerian law by family members of a victim of a fatal plane crash, was recently sought in Toulouse, France, before the Tribunal de Grande Instance de Toulouse in 2015. He was also Chairman, National Working Group on the Rome Statute constituted by the office of the Honorable Attorney General of the Federation of Nigeria in 2011.
He has attended numerous local and international conferences, seminars and workshops which include International Bar Association (IBA) Conferences around the world (consistently between 2001-2016); 1st, 2nd and 3rd International Workshops on Integration of Arbitration, Mediation, and Conciliation in Dispute Resolution in Africa.