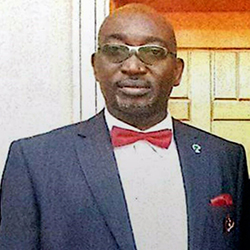 Dr Ayibaemi Ken FASHOLA is currently the Chairman of the National Advisory Board of Global Peace Foundation in Nigeria.
He is also the 2nd National Vice President of the Institute of Chartered Mediators and Conciliators of Nigeria (ICMC) as well as the Chairman of its National Training Committee.
Dr Fashola is also the 3rd National Vice Dean of the Association of Ambassadors for Peace of Nigeria.
He holds a PhD in Public Administration (USA), a Masters in Marketing (Nigeria) and two Post Graduate Diplomas in Management (Nig) and International Public Relations (UK).
He is an alumnus of both the United Nations University for Peace in Costa Rica where he studied Social Entrepreneurship and Social Innovation as well as the United States Institute for Peace where he studied Economics and Conflict.
A very passionate peace advocate, an enthusiast a champion of effective communication and justice as primary tools for lasting relationships and harmony.
Apart from his professional vocation, nothing else seems to have caught his passion more than peace advocacy, mediation and conciliation.
He is credited as one of the early pioneers of relationship/family mediation and conciliation and ran a popular column in Nigeria's foremost populist newspaper, The Punch Newspapers.
In recent years, he has lectured courses at national and international fora including Global Majority Inc., a US based peace advocacy NGO in conjunction with University of Johannesburg (Re: 2009 Xenophobic crisis); Institute for Policy and Strategic Studies, Ghana; Henshall Centre for PR/Prof Sam Black Organization/Manchester Metropolitan University (UK) among others.
He is a Peace Ambassador with the Universal Peace Federation and also an MDG Ambassador with Teachers Without Borders.